Job offer - Sales Manager Eastern and Northern Europe
Sales Manager Eastern and Northern Europe (m/f/d), Home Office possible
We need support for our regional sales team in Europe!

Be a part of the exciting new stage of our future growth! For more than 30 years, DESKO has been developing hardware for data capture with a product portfolio ranging from OCR swipe readers to passport/ID full-page-scanners. DESKO is a world-class leader in the document scanning industry, well-known by all major stake holders (airports, governments, private sectors). Typical fields of application include e.g. the airport environment in which the employees use DESKO scanners mainly for passenger check-in & boarding. Other fields of application include the verification of ID documents at the border control and data capture from boarding passes at the boarding gate.
DESKO is a German company with its headquarters located in Bayreuth, Germany. The company operates further subsidiaries in Singapore and the USA. The main divisions include travel, security and border control, banking and self-service/kiosk integration. DESKO works with in-house staff at all subsidiaries as well as an additional network of resellers around the globe. All DESKO products are in usage worldwide.
Join our team and look forward to a secure job in a successful, fast-growing company!
We are searching for a
Sales Manager for Eastern and Northern Europe (m/f/d)
Your motivation:
Do you enjoy working with people from different cultures?
Do you have experience in active sales and are you looking for a career change or career move?
Would you like to work for a modern, successful medium-sized company?
Are you keen on working in a niche market, with exciting end customers and in a technical environment?
Your responsibilities:
Sales of solutions for ID document authentication, including hardware (the scanner) and software
Area: Eastern and Northern Europe
Responsible for the sales: channel partners, software and hardware integrators, final customers, customer loyalty, sales development and achievement of sales targets
New customer acquisition and support of existing customers, with the support of a sales assistant and a technical team
Customer and trade fair visits
Report to the EMEA VP of Sales based in Paris (France)
The internal sales team will be there to assist you
Your profile:
Fluent in English - German is a plus
1 to 3 years of experience in sales, ideally international sales and preferably in the region mentioned
Business-oriented studies (High Business School, Business license or Master or similar)
Strong communication skills
Intercultural competence
Independent, solution-oriented, persistent and very organized
A technical background is a plus
Availability for business trips (20-30% of your time)
Experience with Salesforce or similar CRM
Ability to drive and lead complex projects in a challenging commercial and technical environment
Will to work on long-term relationships, build a personal trust with key customers, create new partnerships, build up a network of active resellers
Ability to build an argument, understand and explain technical solutions and convince key decision makers
Ability/will to work in the following main industries: Governments (Ministry of Interior, Police departments, City Halls), Gaming, Tax refund, Access Control, Hotels, Banking
Ability/will to work with: IT directors, Senior Solution designers, Senior Project Managers and Heads of Procurement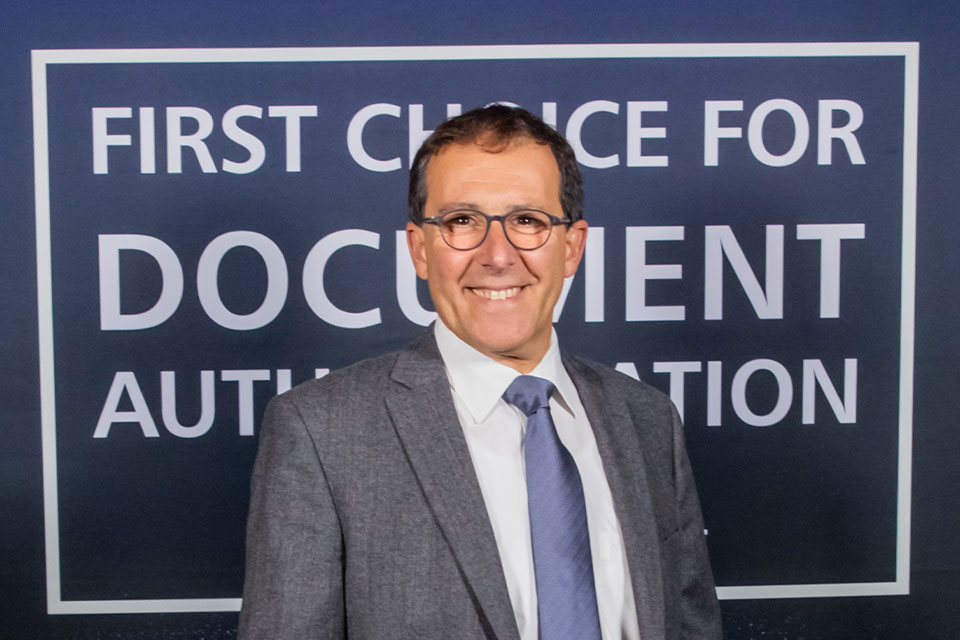 What the people who work at DESKO say
"We can only offer added value to the customer if we ask questions and listen carefully."
Alberto Boggetti, Sales Director (EMEA)
What we offer
We provide benefits that are industry competitive and focused on employee well-being:
A benevolent and positive atmosphere in which we support each other in achieving our goals
A modern, diversified workplace in a growth-oriented company (steady growth since its foundation)
Interesting tasks and cooperation with well-known customers worldwide
Career opportunities and development as a senior sales manager over the next 3 to 5 years
Attractive remuneration and appealing conditions and securities of a successful company
Permanent full-time employment
A worldwide recognized product range of high quality. Our products are considered top of the line all over the world.
Optional: Home Office, including regular trips to our HQ in Germany
High-quality technology
A modern workstation equipment inlcuding two screens is standard at DESKO, so no team member has to work with a slow PC and outdated IT technology.
Company car
As a Sales Manager you are on the road a lot. Of course, we will provide you with a suitable vehicle for this purpose.
Team events
Team spirit is very important to us. If a team gets on well together, it can successfully complete projects together. That's why we believe that joint activities and events are just part of the game.
Permanent employment contract
Flexible solutions for home office
30 days vacation
Capital-forming benefits
Vacation pay
Christmas bonus
Possibilities for further training
What qualifications should I have for this position?

For the position of a Sales Manager at DESKO, it is not only important that you enjoy contact with different people and cultures. If you have the ability to drive and manage complex projects in a challenging commercial and technical environment, this job is perfect for you. If you also enjoy working on long-term customer relationships, building personal trust with key customers and a network of active resellers, then you should definitely apply.

It is also very important that you have a good technical understanding and are not afraid of new technical developments or of being away from the office due to business trips.

Is the job also suitable for career changers?

In this case, the job is not suitable for career changers. Ideally, you should already have 2-3 years of experience in international sales.

Your great strength lies in communication, technical and intercultural understanding? Great, then this is your "perfect match".

What tasks are waiting for me?

As a Sales Manager, you will mainly be in contact with customers and prospects to provide them with the best possible advice and solutions. This could be by phone, email or by visiting customers on site.

The close cooperation with the head office in Germany is also essential. You will be in daily contact with the internal sales team. Our support and marketing teams are also based in Germany and will work closely with you.
Have we aroused your interest?
As a global company, our main business is outside Germany. The English language is essential in our daily work. For this reason we ask you to submit your application completely in English. Many thanks. Send your resume with details of your earliest possible starting date and salary expectations to:
DESKO GmbH
Mr. Zahn
Gottlieb-Keim-Straße 56
95448 Bayreuth 
or by email to: jobs@desko.de
Bitte beachten Sie, dass offizielle DESKO E-Mails nur die folgenden Endungen haben: .de, .com.
Sollten Sie E-Mails mit anderen Endungen erhalten, raten wir Ihnen diese zu ignorieren.