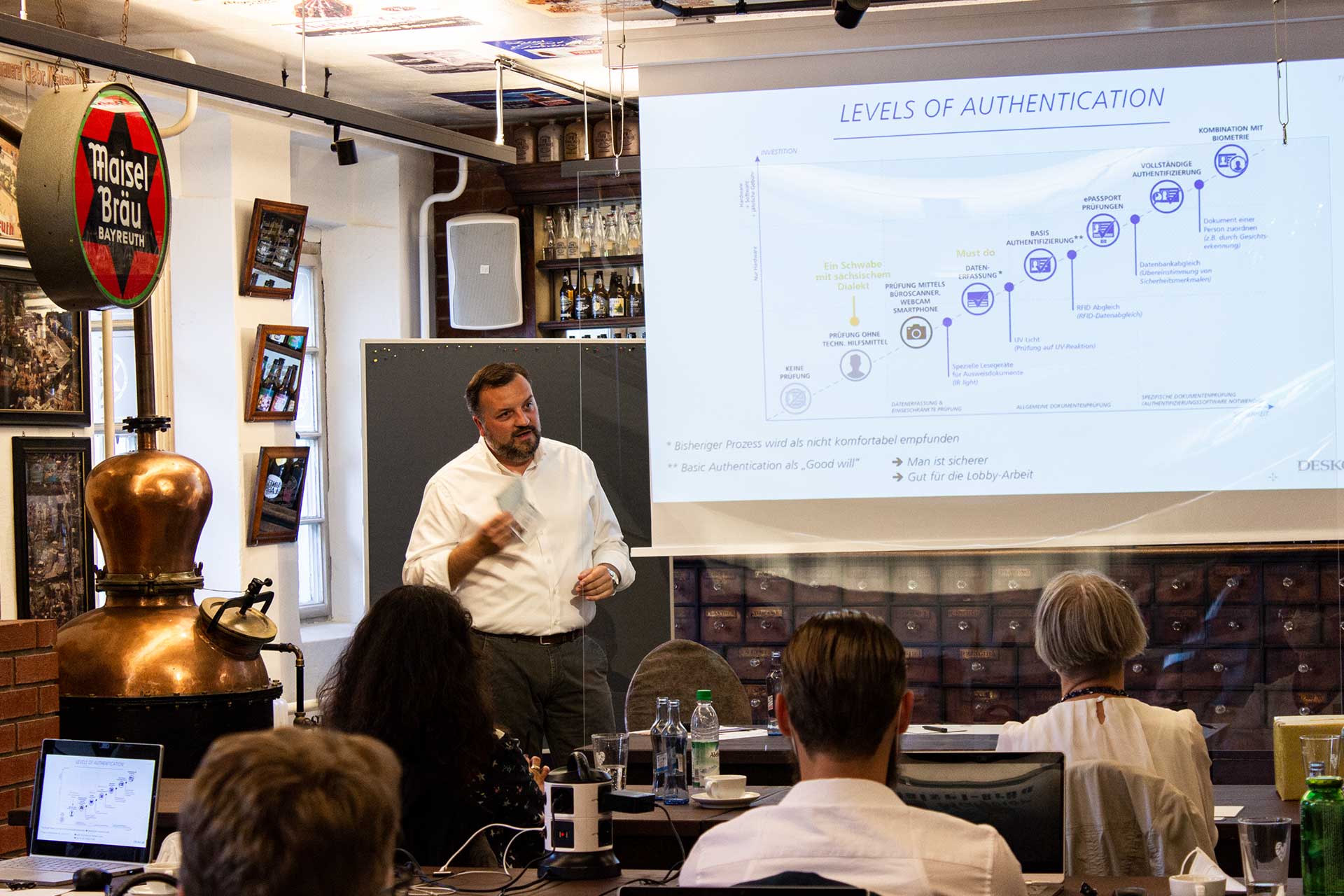 29.07.2021
"Fraud Prevention 1849, Franz Liszt as a Crook and the Eternal Lure of Money."
KYC presentation by Alexander Zahn at the company workshop of MGRP Management Consulting
With this entertaining lecture DESKO CEO Alexander Zahn enriched the company workshop of the Frankfurt management consultancy MGRP.
For the IT consulting experts, he bridged the gap between the Wagner city of Bayreuth, the forged passport Richard Wagner received from Franz Liszt, and current challenges in identity management for financial service providers. Extraordinary topics in an extraordinary setting: The workshop took place in the rooms of the 'Alte Abfüllerei' of a Bayreuth brewery, so that the connection to the beer region of Upper Franconia was not missing. Professionally and culinary the evening convinced the participants, as MGRP Consultant Dr. Tim Kirschner summarizes:
"Alexander Zahn's lecture has inspired all colleagues of MGRP sustainably. To build a bridge from locally colored cultural history of the 19th century to daily Know Your Customer challenges in the financial services sector surprised and captivated in equal measure. As management consultants, we typically think of the KYC process from the other end. The leap to the DESKO document scanner and thus to the beginning of the process chain provided for a change of perspective, which was further discussed animatedly afterwards with Franconian beer and Franconian snacks. Our most binding thanks go to Mr. Zahn and the company DESKO for enriching our workshop!"
If you are interested in this lecture for your company event, we would be pleased to receive your inquiry by e-mail: marketing@desko.de