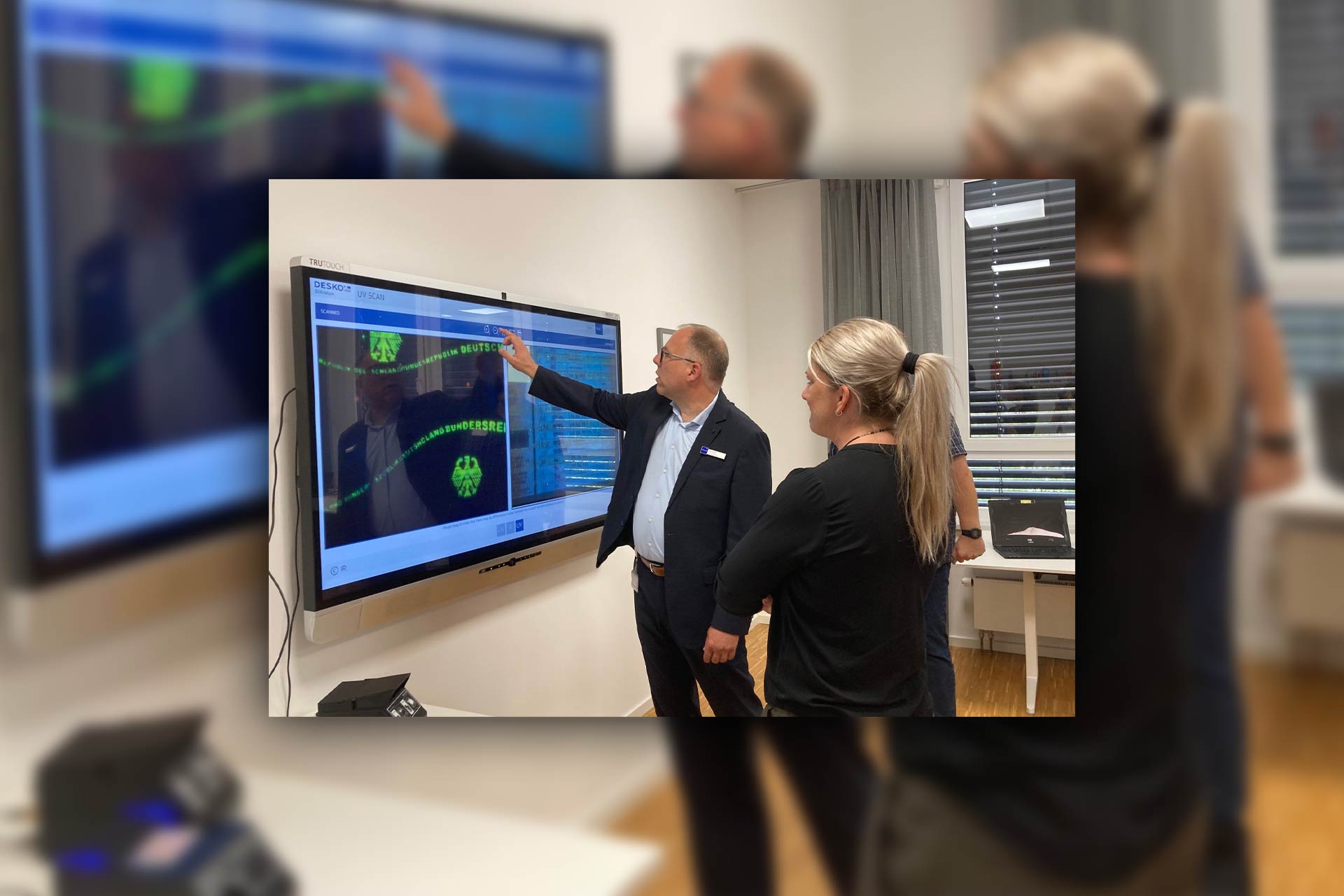 19.07.2022
Numerous visitors at the open day for police and authorities
Full house at the technology company DESKO in Bayreuth
Our Police and Authorities Open Day, or "DESKO Police Day" for short, has now become a popular traditional event in the company. Last Thursday, July 14, it took place for the third time after a two-year Corona break. Numerous high-ranking international document experts met here at Corona to exchange views on the topic of "identity establishment and verification"
The all-day event was opened by DESKO Managing Director Alexander Zahn. This was followed by greetings by Dr. Silke Launert, member of the German Bundestag and Mr. Thomas Engel, Vice President of the Government of Upper Franconia.
Afterwards the technical part began. Mrs. Olga Arnese-Vessere, document expert at the European Border and Coast Guard Agency FRONTEX, started the event with a presentation in English on "Document fraud as a key challenge in border control". Other exciting keynotes followed, including Roberto Wolfer, Managing Director of JENETRIC GmbH, who spoke on the topic of "Milestones in recent biometrics" and Peter Hessel, retired Police Chief Superintendent and document expert, on the topic of "Profiling and Superrecognizing". In addition, the newly founded further education institute for document knowledge International College of ID Management (IDM) under the auspices of DESKO was presented by IDM Director Ms. Jessica Luh-Fuchs.
In addition to the theory, the practical side of the event was not neglected: In a document show led by DESKO document experts Jens Mayer and Peter Hessel, the participants were able to put the latest DESKO ID card readers with forensic image resolution to the test at various workstations.
At the concluding dinner and a charity action for the benefit of the Ukraine-Hilfe in Bayreuth, where the visitors could compete with basketball national player at medi Bayreuth, Bastian Doreth, in basket shooting, the event came to a culinary and sportive end.