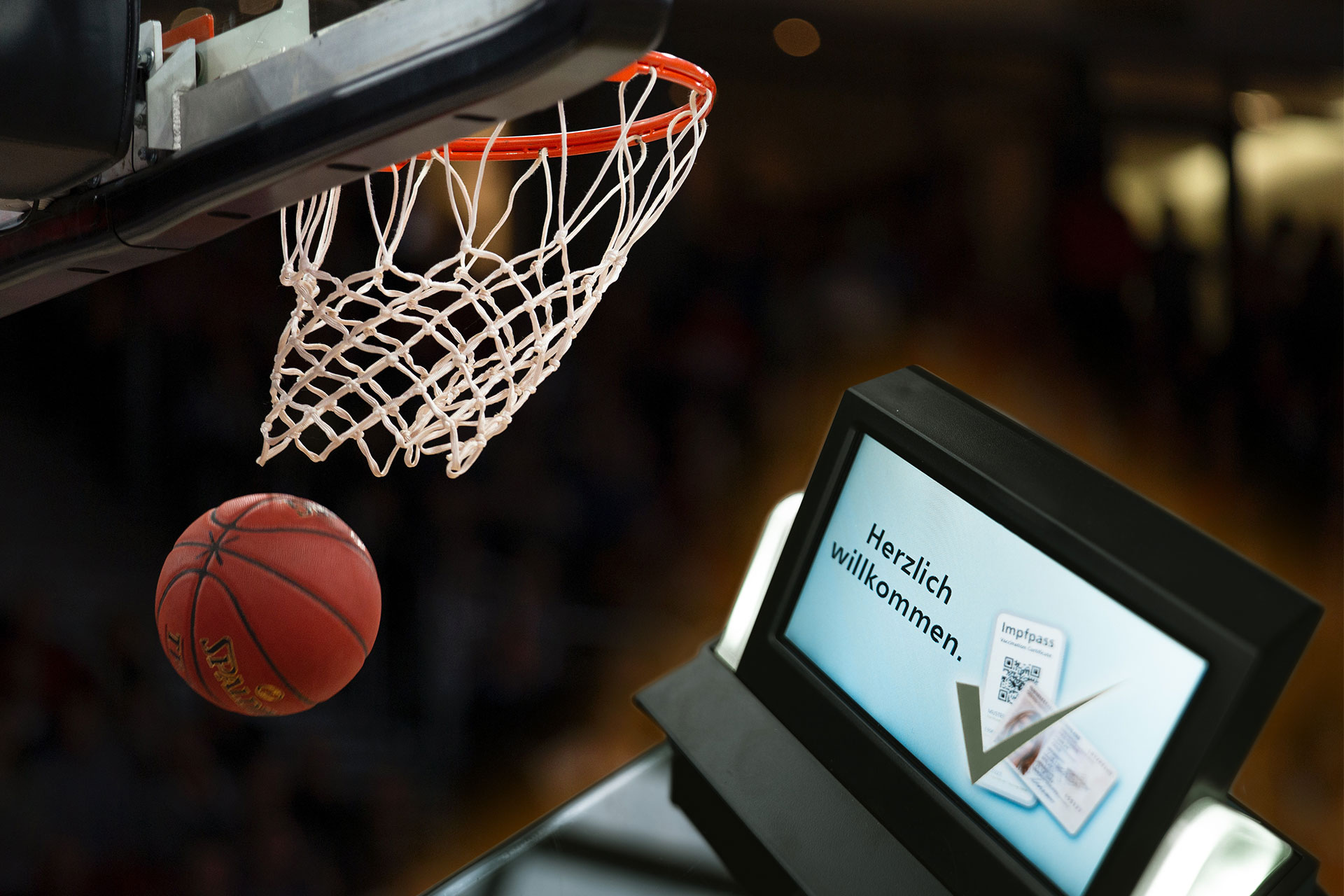 27.10.2021
New partnership facilitates access control at HEROES OF TOMORROW games
Easy and safe in!
More security and moreover also comfort regarding the check of the 3G-Plus status of all visitors will be available at the entrance to the Oberfrankenhalle from the upcoming home game of the HEROES OF TOMORROW. The new partnership of medi bayreuth with the Bayreuther enterprise DESKO makes this possible in the future. The DESKO GmbH, based in Bayreuth, Wolfsbach is considered as technological outrider within the range of the automated data transfer and will make possible starting from the medi home play against Crailsheim with special scanners the verification of the 3G plus status of each visitor. To bring are for the meeting visitors only the digital 3G PLUS proof and the identity card, which can be scanned then by the DESKO devices.
Alexander Zahn (DESKO managing director) explains the process:
"We are reverting here to a proven technology that we use at TSA checkpoints in the USA, among other places. Our special scanners are designed to read and process data from ID documents. For use in the Oberfrankenhalle, we have additionally trained our best-selling PENTA scanner to read vaccination certificates. The QR codes are verified in the first step - that is, they are compared with the valid certificates in the European database. In the second step, the data from the ID card is added. If the data match, i.e. the holders of the vaccination certificate and the ID card are identical, the LEDs on the scanner switch to green. This only takes a few seconds. Visitors don't notice anything about the complex verification process in the background - they can simply enjoy fast and secure access to the hall."
Johannes Feuerpfeil (Managing Director medi bayreuth) said:
"I am very pleased that with DESKO GmbH we can welcome another global player from Bayreuth to our constantly growing family of sponsors. Already in the first joint conversation we quickly realized that we can create a real "win-win" situation with a partnership. Starting with the upcoming home game, thanks to the great know-how of the company DESKO, the 3G-Plus control on match days will be able to run completely digitized. This is not only an additional security aspect, but will also speed up the controls at the entrance. Thus also the visitors of the Oberfrankenhalle profit very variously from this new and strong partnership. On behalf of the entire Bayreuth basketball family, I would like to express my sincere thanks to Alexander Zahn and Jessica Luh-Fuchs for this."