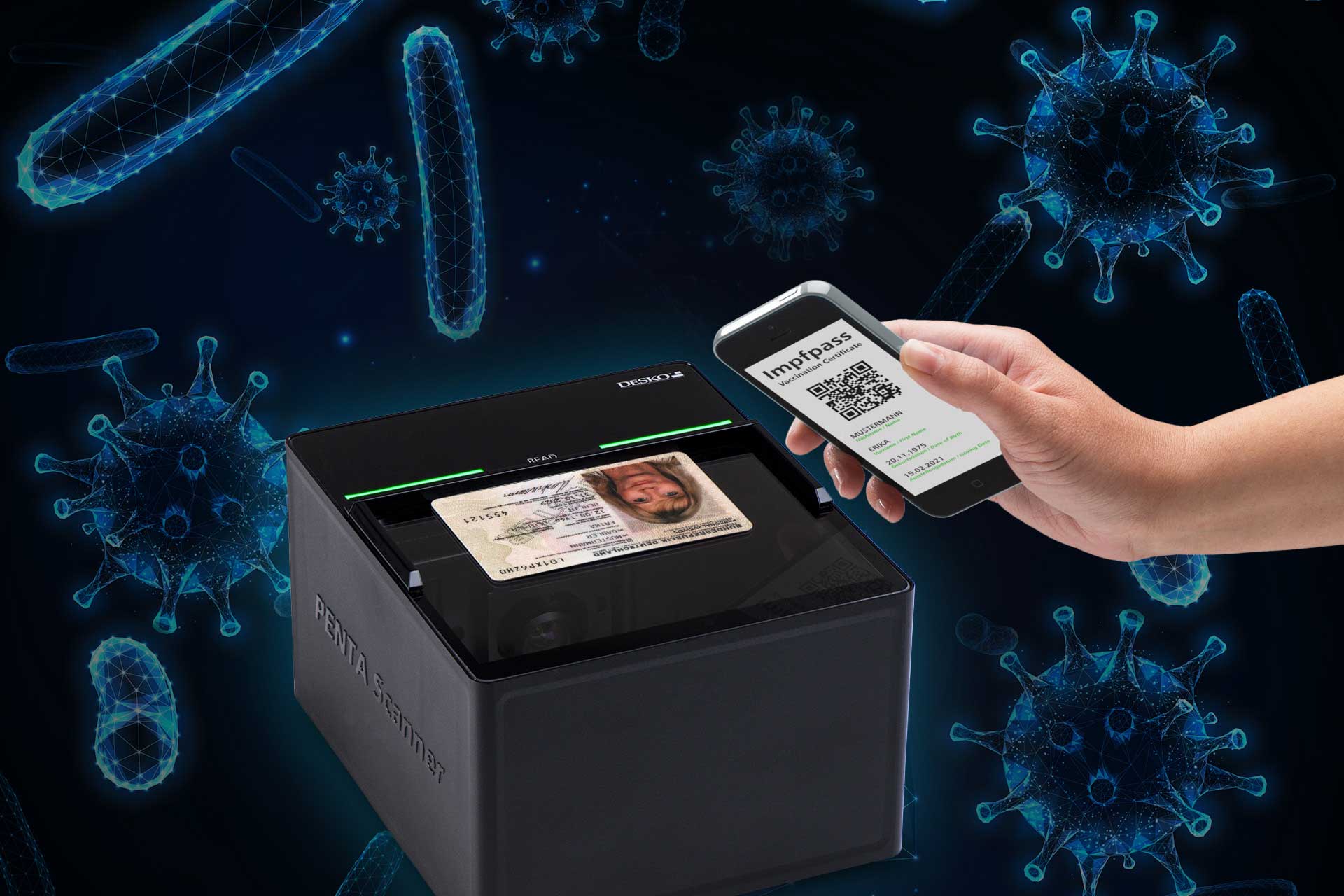 07.12.2021
DESKO Health Certificate Check verifies EU vaccination or test status and ID document
With only ONE device in ONE secure process
Your solution for a corona compliant access control
Check and validate with only one device
The rules for the corona compliant access control must regularly be adapted to the pandemic situation. This is the only way to ensure a safe and secure entry to gastronomy, companies, sports events, concerts and many more.
However, independent from the situation is the process of a safe and reliable check. It includes two essential security factors:
1. Checking the presented vaccination or test certificate
2. Validating the certificate by comparing it with a valid ID document
Quick, easy and electronical
Our all-in-one solution consisting of our high-performance multifunctional DESKO PENTA Scanner Block and a user-friendly software does exactly that. You get reliable and comprehensible check results in just one workflow and in one device.
In a first step, the worldwide established ID scanner from our ­DESKO PENTA family decodes and validates the vaccination or test certificate. In a second step, our Health Certificate Check software compares the data stored in the certificate with the data of the ID document: only if both information is identical and the certificate and ID document can be assigned to the ID card holder, the LEDs on the scanner switch to green and your guests, customers, patients or staff members can enter. The software shows abnormalities and irregularities on the laptop so that you can react accordingly. You as the user can adapt the system to the current regularities via a ­maintenance interface yourself.
Your advantages:
Quick and secure check of certificates and ID documents  
Safer than manual visual inspection
1 device for 2 document types – barcodes and
ID documents
No data storage as standard
Data transfer in applications possible
Scans EU and international vaccination and test certificates
Attractive price
For more information fill out the contact form!