DESKO PENTA Scanner® for self-service
DESKO PENTA Scanner® for self-service
Stand-alone terminal as universal full solution
With the DESKO PENTA Scanner® for self-service, we have developed the perfect stand-alone solution for all security points and customer service points. Whether at airports, in businesses, in public institutions and public authorities or in the tourism industry – the device is perfect anywhere independent scanning and inspection of IDs, passports, employee cards or tickets is required. The PENTA Scanner for self-service features an integrated PC and extra-large, full graphics display for a compact complete terminal solution that delivers excellent ease of use and top quality "Made in Germany". This optimizes and accelerates your work processes and significantly improves your customer service.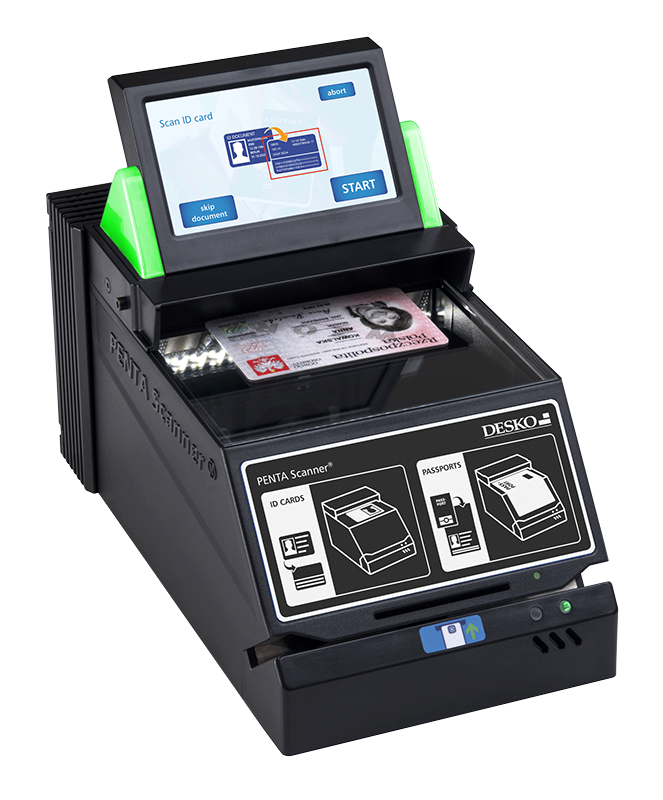 Multi-functional system for self-service areas
The PENTA Scanner for self-service combines all the characteristics of the established PENTA platform. As an innovative all-in-one solution, it delivers high-quality equipment with a variety of optional features. With its standard OCR technology for optical character recognition in identity documents such as passports, it is suitable for the secure data capture of various identity documents. Various light sources enable reliable reading of all data contained in the document as well as security characteristics, and the established PENTA technology guarantees optimal high-resolution results. A powerful integrated processor and various interfaces enable easy integration.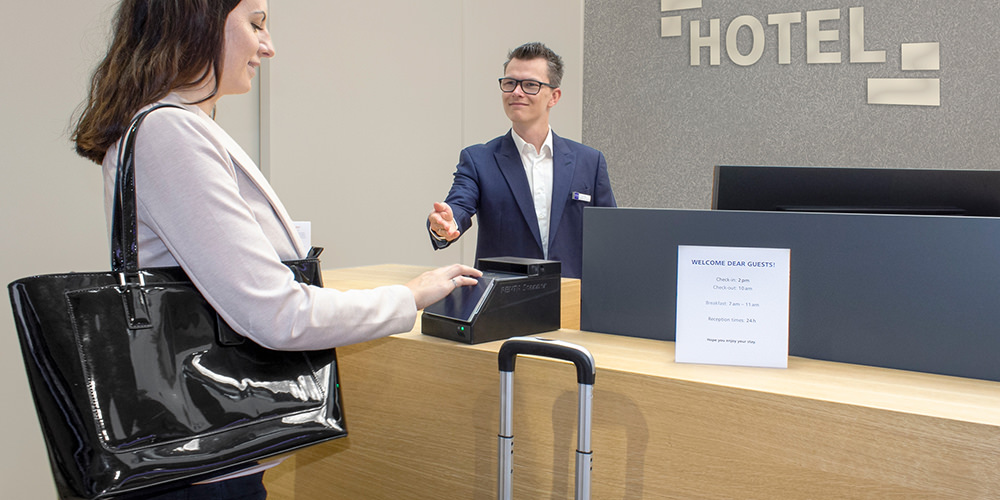 As needed, the terminal can be equipped with additional features such as modules for reading barcodes, magnetic strip cards or RFID and NFC. In this way, you can set up PENTA Scanner entirely to suit your individual requirements. Would you like not only to scan identity documents but also to check their authenticity? Then you can combine the terminal with authentication software to carry out reliable authentication.
Video
The PENTA Scanner is the perfect solution for autonomous electronic ID control. Discover the options that PENTA technology can offer you.
Securely detect and process international documents
Which documents does your self-service PENTA Scanner need to process? Depending on the module and equipment, the terminal can read, inspect, save and process data from the following identity documents
ID documents
Passports
Biometric passports
Driver's licenses
Credit and debit cards
Tickets and admission passes
Boarding passes
Employee ID cards
Chip cards
Practical, user-oriented and efficient
The self-service terminal
The PENTA Scanner makes self-service scanning incredibly easy. The large scan window and full graphics display ensure easy operation. With its multicolor LEDs, the terminal guides the user step by step through the application and provides direct, clearly visible feedback about the status, process and testing results. Thanks to the compact design and stable construction with scratch-proof safety glass, the scanner is a stable, user-friendly terminal that can be deployed at nearly any location of your choice. This is made possible by the integrated PC with WLAN and the 4.3" display. As needed, you can also operate the terminal autonomously for up to 10 hours with a rechargeable battery. Whether for visitor control and access control, general security inspections, border controls and lots more – the PENTA Scanner is the ideal all-in-one solution for self-service.