DESKO PENTA Scanner® BGR
Multi-functional boarding gate reader
Make the boarding process even more convenient and efficient for your passengers and ground staff. The DESKO PENTA Scanner® BGR was specifically developed for this task as a boarding gate reader. The extra-large scan window for reading the barcodes on boarding passes and the full graphics display are hallmarks of the PENTA Scanner BGR. The display provides direct and clear feedback to passengers or employees, simplifying the work process. The scanner also impresses with tried-and-tested DESKO PENTA technology for reliable and fast reading of ID documents. As a result, the PENTA Scanner BGR meets all the expectations for secure ID and access control and ensures a smooth boarding process.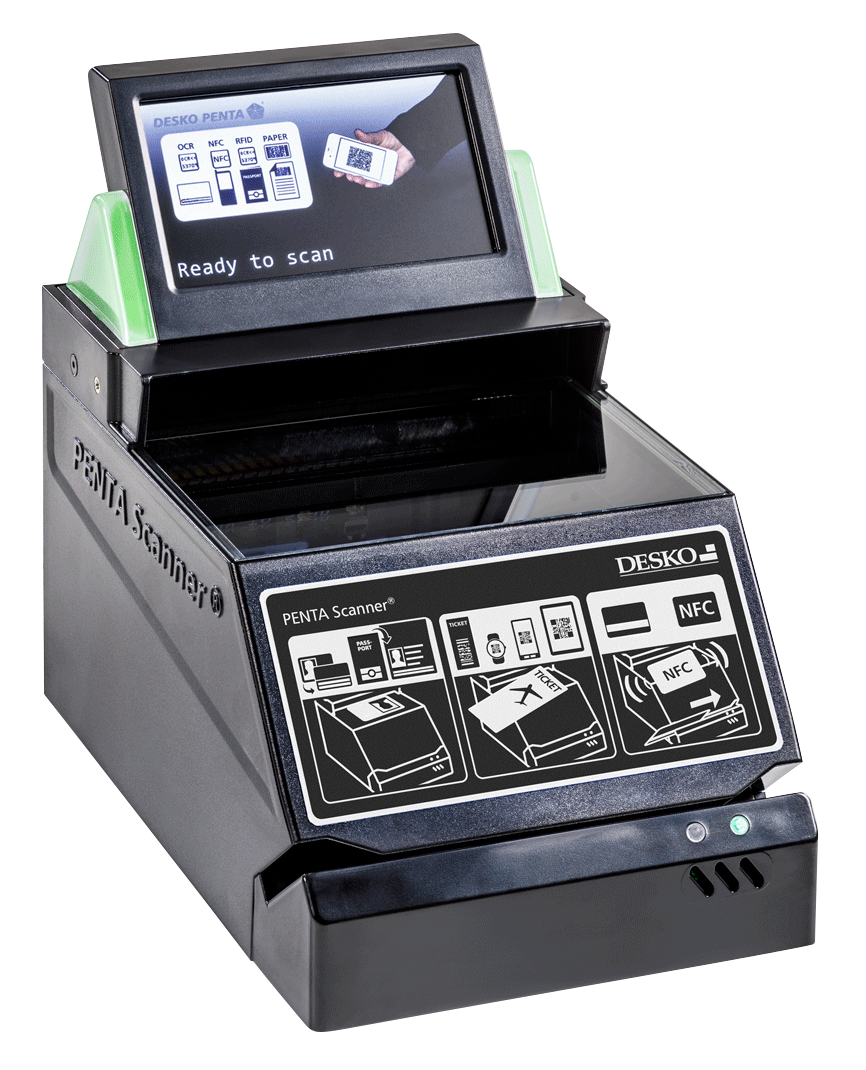 Various features in one device
Multi-functional technologies ensure that the PENTA Scanner BGR will meet all your requirements for airport use. As a standard feature, the device includes OCR for optical character recognition in the machine-readable zone (MRZ) of ID documents. The image is captured under three different light sources (visible, infrared and optional UV light).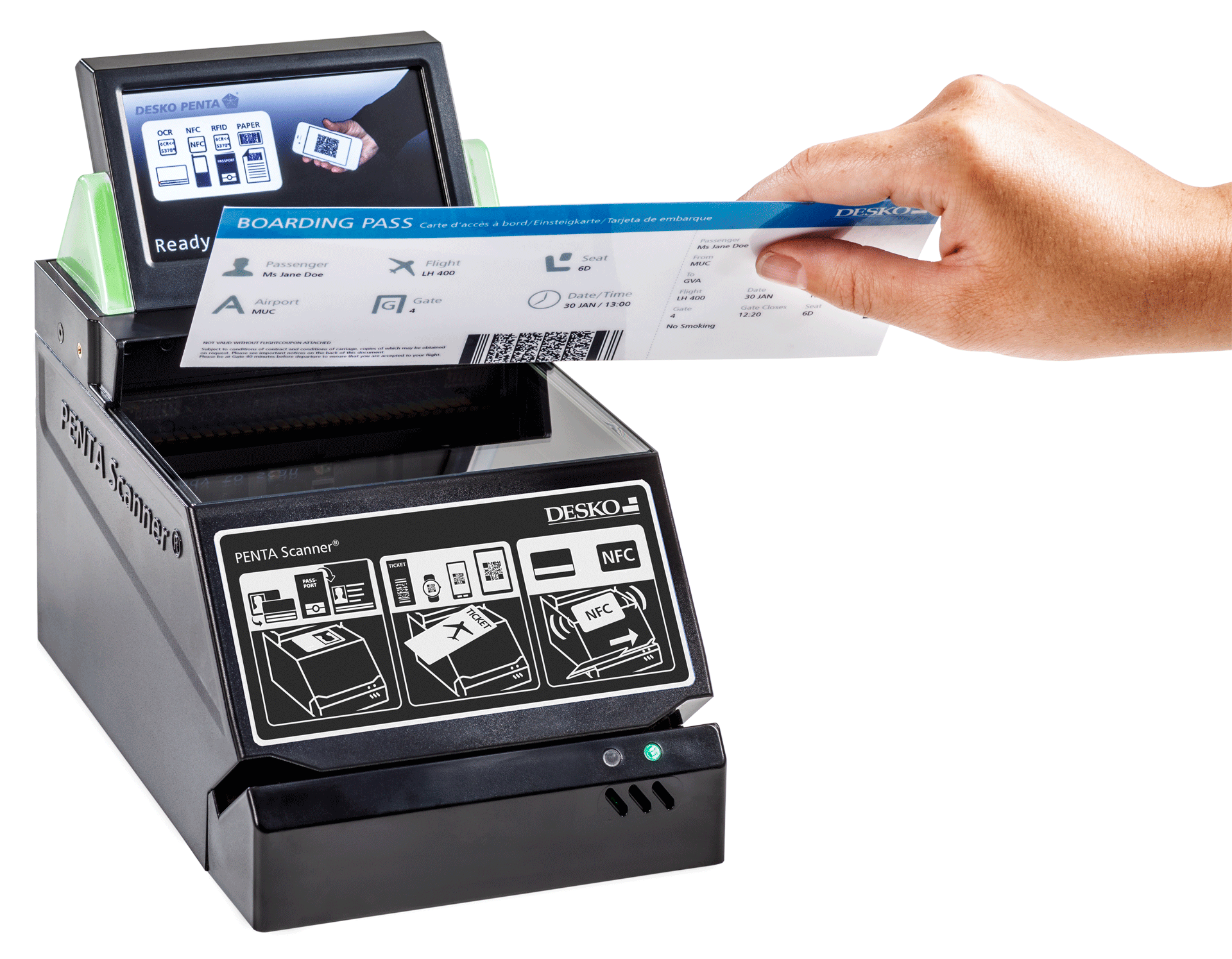 The boarding gate reader from DESKO is also equipped with modules for reading barcodes and magnetic strip cards. As a result, it is capable of recording data from boarding passes, passports, IDs, digital vaccination certificates,  frequent flyer cards and other documents. Thanks to RFID and NFC modules available for optional integration, it can even read e-passports and e-tickets or corresponding employee IDs or customer cards.
Video
Discover all the options that DESKO's PENTA Scanner BGR offers you. What are your requirements for boarding?
Can be used as a free-standing self-service terminal
Are you looking for an independent stand-alone solution? Expand the PENTA Scanner BGR with an integrated PC that can be used separately from your stationary PC thanks to WLAN and a powerful rechargeable battery. This gives you the option of using the scanner at any time and place. The versatile installation kits from DESKO support flexible mounting – on guidance systems, desks or counters. The DESKO PENTA Scanner BGR impresses with its compact, solid construction, scratch-proof safety glass and of course its excellent ease of use.
The advantages for you at a glance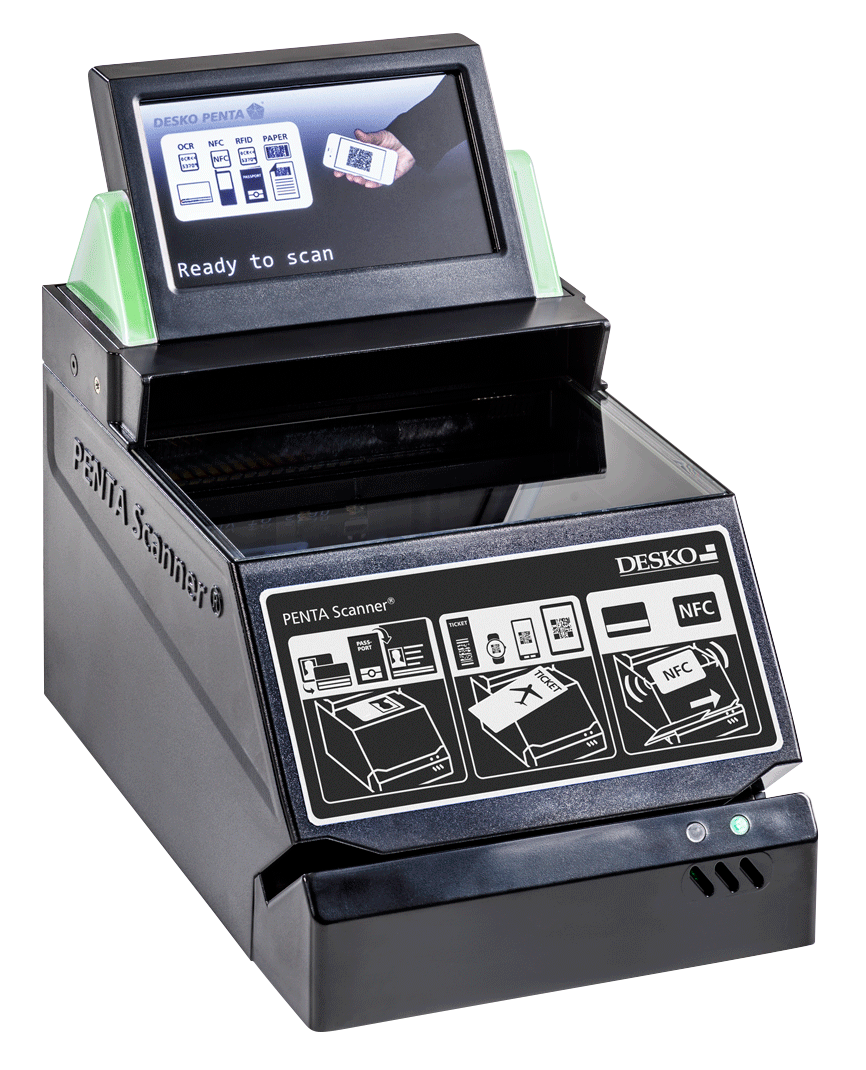 Standard equipment

OCR technology for optical character recognition of the machine-readable zone (MRZ) of documents such as IDs, passports
Light sources: Infrared and visible light
Magnetic strip reader (MSR): A bidirectional swipe reader to read cards with magnetic strips, e.g. frequent flyer cards, bank cards and credit cards
Barcode reader: For scanning 1D and 2D barcodes on paper and digital displays (smart watches, smartphones, tablets), e.g. boarding passes, airline tickets
Safety glass on scan area
Display: 4.3" full graphics display

Optional equipment

Light sources: UV-A light for checking security features
RFID module (Radio Frequency Identification): To read biometric passports
China ID reading module: An integrated RFID module specifically for reading Chinese IDs
NFC module (Near Field Communication): For contactless reading of e-tickets, for example
Integrated PC: With WLAN for independent use without stationary PC

Download
Recommended products
Barcode scanner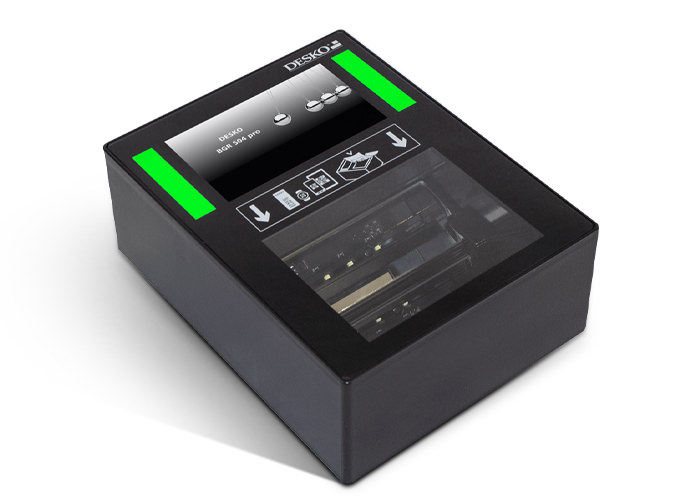 Passport and ID scanner