DESKO PENTA Scanner® CKI
Versatile scanner for check-in
The DESKO PENTA Scanner® CKI is the perfect all-in-one solution to ensure a smooth check-in process, secure ID control and comprehensive data capture. The innovative device combines a variety of features in a single package, thereby efficiently reducing your IT infrastructure. As standard features, the PENTA Scanner CKI is equipped with OCR technology for optical character recognition in identity documents and an integrated barcode and magnetic strip card reader. Optionally, modules for RFID and NFC can be added. The stand-alone version can be operated ideally with integrated PC (WLAN) and rechargeable battery.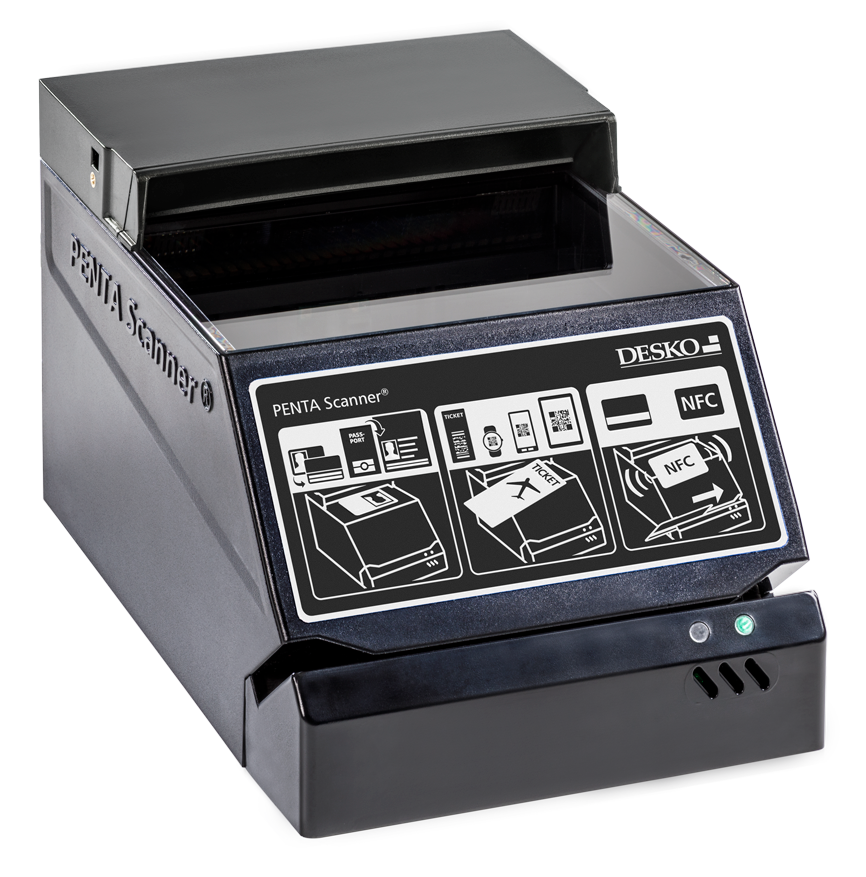 Flexible solution
for rapid image and data capture
The PENTA Scanner® CKI delivers rapid image and data capture. It reads the data from identity documents and magnetic strip cards such as passports, IDs and frequent flyer cards. It also captures the barcode data from boarding passes, tickets and digital vaccination certificates on smart watches, smartphones and tablets. Thanks to a buzzer and integrated LED, the user immediately receives auditory and visual feedback: for check-in, this takes the form of a go or no-go signal. For further processing, simply transfer the data to your PC or laptop after the scan process is complete.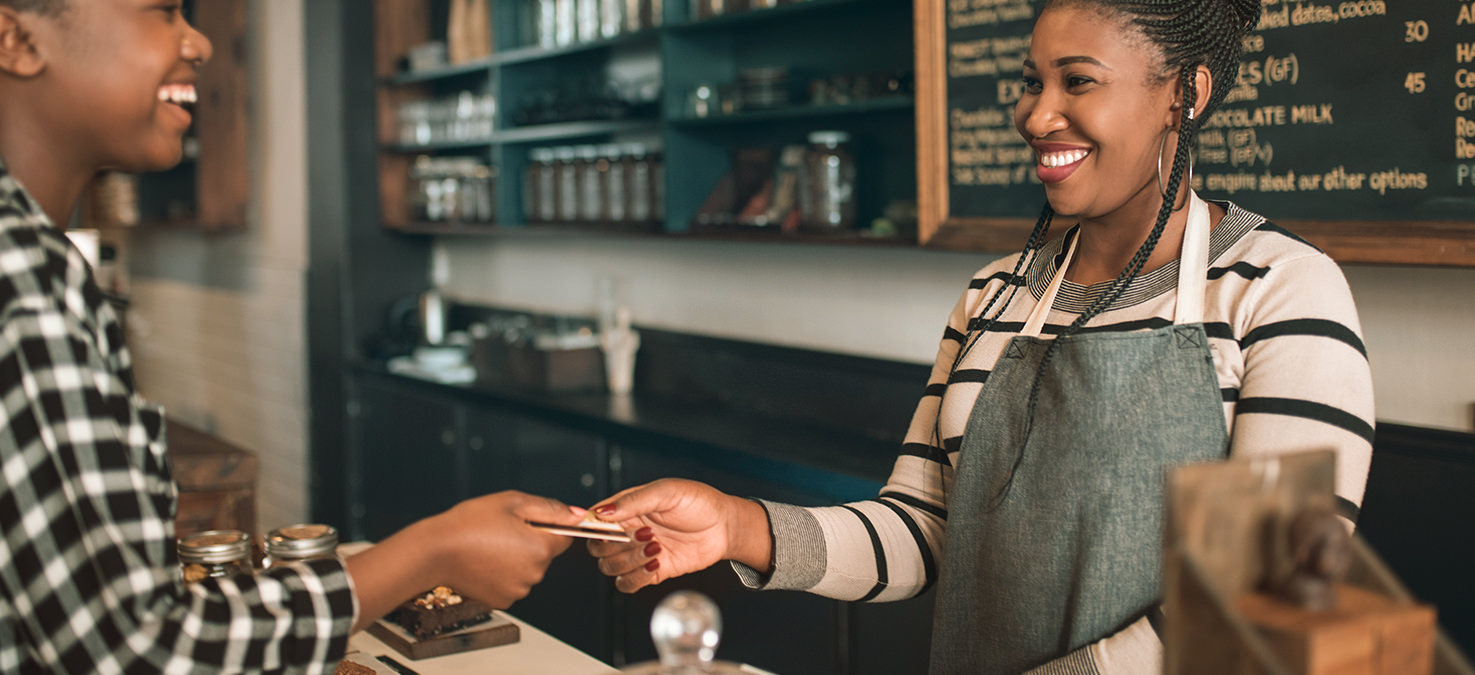 The device is compatible with a variety of applications. This allows for simplified, efficient data usage. You can save and archive the data and high-resolution color scans. As a result, the PENTA Scanner CKI from DESKO offers you high-quality service to accelerate and simplify your work processes in data processing.
Maximum security thanks to innovative technologies
Despite its compact format with stable housing and scratch-proof safety glass, the PENTA Scanner CKI is packed full of technology. As a full-page scanner with a large scan area, it operates as a multi-functional reader for rapid image and data capture:
Various light sources
The transfer of image data is accomplished using two or three different light sources. By default, the device is equipped to work with visible light and infrared light. This enables the PENTA Scanner CKI to read the machine-readable zone (MRZ). It is also available with UV light as an optional feature. This is necessary in order to reveal the "hidden" security features on the document. In combination with the right authentication software, this enables reliable ID authentication.
OCR technology
As a standard feature, the device operates using OCR for optical character recognition, reliably reading all data from the machine-readable zone (MRZ), for example on IDs.
Barcode reader
Barcodes, for example on boarding passes, can be read either from paper or from digital displays.
Magnetic strip reader
A bidirectional magnetic strip reader captures cards with magnetic strips such as frequent flyer cards and credit or debit cards
RFID
To read RFID chips (Radio Frequency Identification), for example in biometric passports, an optional RFID module can be installed.
NFC
For contactless data capture, for example from employee IDs, the device can be equipped with an NFC module (Near Field Communication).
Video
Discover all the options that DESKO's PENTA technology offers you. Configure the device according to your needs.
The advantages for you at a glance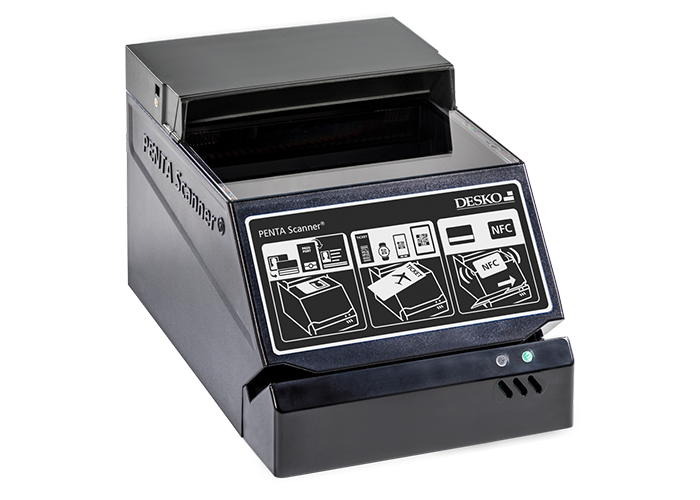 Standard equipment

OCR technology for reading out the machine-readable zone (MRZ) of documents, such as IDs, passports
Light sources: Infrared (IR) and visible light (VIS)
Magnetic strip reader (MSR): To read cards with magnetic strips, e.g. frequent flyer cards, bank cards and credit cards
Barcode reader: For scanning 1D and 2D barcodes on paper and digital displays (smart watches, smartphones, tablets), e.g. boarding passes
Safety glass: Display with scratch-proof Corning® Gorilla® Glass 3

Optional equipment

Light sources: UV light for checking security features/authentication
RFID module: To read biometric passports
China ID reading module: An integrated RFID module specifically for reading Chinese IDs
NFC module: For contactless reading, for example employee ID cards
Integrated PC: With WLAN for independent use without stationary PC

Download