DESKO PENTA Scanner®
Versatile full-page scanner
Whether airlines and airports, public authorities, offices and police stations, businesses and retailers or banks and insurance companies – there are many sectors for which reliable ID control is crucial. Since every sector has its own unique requirements that are specific to the sector and company, we at DESKO have developed a modular system for recording and verifying identity documents: the DESKO PENTA Scanner®. As a result, the device meets all requirements for complete data capture and ID inspection.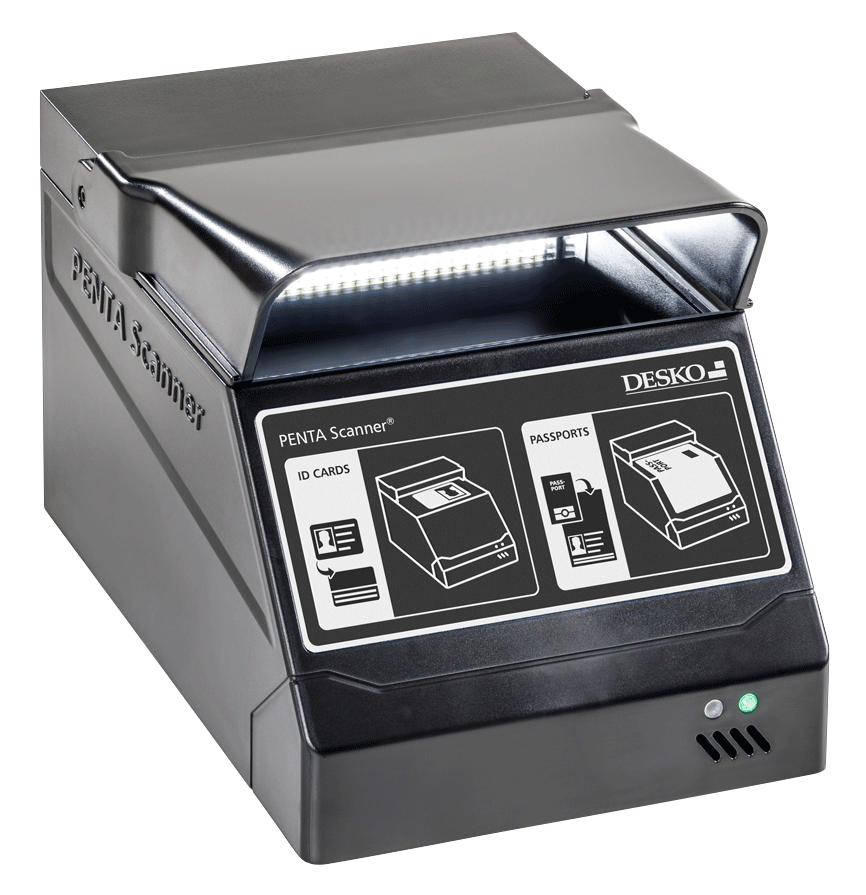 Rapid and efficient readout
of IDs, passports and other documents
Depending on the model, our PENTA Scanner scans, captures and processes the data and images from the following documents, for example:
ID cards
ID documents
Passports
Visas
Residence permits
Driver's licenses
Biometric passports
Credit cards
Innovative technologies
for optimal security
As a multi-functional full-page scanner with a large scan area, the PENTA Scanner is suitable for reliable reading of many documents such as IDs, passports, driver's licenses and lots more.
Its high-quality scan technology delivers first-class image quality and guarantees efficient work processes. Additional features/equipment are available optionally. In this way, you can set up PENTA Scanner entirely to suit your individual needs and requirements:
Various light sources
By default, the device is equipped to work with visible light and infrared light. The optional UV light source enables reliable and complete authentication of the ID by revealing the document's "hidden" security features.
OCR technology
As a standard feature, the device operates using OCR for optical character recognition, reliably reading all data from the machine-readable (MRZ) and visual zone (VIZ).
Barcode reader
1D and 2D barcodes can be read either from paper or from digital displays, for example on smartphones.
RFID
In order to read RFID chips (Radio Frequency Identification) on biometric passes, an RFID module can be integrated.
NFC
For contactless data capture, the terminal can be equipped with an NFC module (Near Field Communication). This leaves you ideally prepared for future requirements as well.
Magnetic strip reader
A bidirectional swipe reader on the front of the device for reading magnetic strip cards.
Chip card reader
A module for reading chip cards/smart cards can also be integrated.
Video
Discover all the options that DESKO's PENTA Scanner can offer you. Select the features entirely to suit your requirements.
Maximum efficiency in minimal space
The PENTA Scanner impresses with its compact design and sturdy construction evident in features such as the scratch-proof safety glass of the scan window. It is also comparably small and can be integrated easily into any work environment – from the reception desk at a casino to bank counters or desks at law firms or notarial offices. Different holders for attachment on the wall or floor enable secure and easy installation in any location. Operation is equally convenient: The user-friendly application ensures easy handling.
The advantages for you at a glance